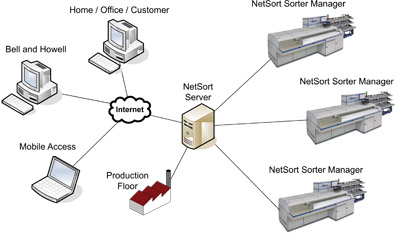 The NetSort sorting software platform from Bell and Howell, allows you to position your operations for maximising postage discounts now and in the future. Built on item-level tracking and scalable client-server architecture, NetSort enables you to not just meet the current requirements but also prepares you for new demands from your national postal authority. This can range from intelligent barcodes to electronic manifest delivery. NetSort is available as an upgrade for a wide range of sorting platforms.
Minimise effort to meet all new requirements
Maximise your discounts and offer new services to your customers.
Offer higher discounts, drive more efficiencies into your operations and enlarge your customer base.
Increase dataflows coming in and going out of your operation.
Use exclusive planning tools to allow your operation run to its capacity.
Improve your capacity without adding to your current systems.
Increase the transparency to your customers.
  Item-Level Tracking
Provides extensive data on each piece processed
Assists in troubleshooting in a more complex environments
Matches barcodes applied to the customer's pre-applied barcode to facilitate true end-to-end tracking
Wide range of scheme creation/sorting options
One-pass sorting
Easier to run different sort schemes and 'mail passes' simultaneously in a multi-sorter environment
Improved flexibility through extended support for new analysis options
Improvements in handling crossover bins in a multi-sorter environment, including item-level tracking
Base platform features
True client-server architecture
Enterprise-strength database
Remote diagnostics capability
Structured archival of mailing data and reports
Different levels of data access
Flexible system configuration
Template-based approach
Complete item-level tracking
Next to the item-level tracking per mailpiece, the mailpiece is tracked in its tray as well, making sure that if you need to look for a specific piece, you don't need to go through all trays but know what tray to look for, the same goes for trays on pallets.
 Planning and resources
Lowers risk management of postage funds
Easier internal money management
Timing (funds management)—no worry about postage control/billing software
Transparency
More customers into the co-mingled environment
Competitive advantage of co-mingling
Lower postage due to higher levels of mail data
Higher percentage of deepest discount mail with a delivery guarantee due to a more predictable in-home date
Contributes to having an end-to-end solution
No need to find alternative provider
Spoilage
Barcode mailpiece subtractions
Analysis for postage accounting
Merge mail from multiple sites
Earn higher discount by co-mingling complementary destination codes
Provide data replication/back-up with near-continuous data transfer between sorters and servers
Track individual mailpieces and generate detailed reports
Stand-alone
import single or multiple mail data files
Analysis for postage accounting and parse, combine, update, change and reanalyze
Function/product is required "after list processing" at the back-end of inserters, as well as can be the "add on" for NetSort on sorters