The InkJet Feeder Series features a belt system that is specially formulated to reduce glazing. Non-glaze buildup allows consistent feeding, higher throughput and a faster return on investment (ROI). The SE Models come standard with the patented Dynamic Rotation Technology™, while the ECO Models feature the patented "Football" Separator. Each feeder comes with heavy duty 1/4" thick powder coated side frames, small product guides and variable speed control.
Options
Back Wedge Extension, Credit Card Guides, RCM, Gear Down, extended hoppers, Start / Stop Interface, stands, right to left
Applications
Ink jetting, tabbing, labeling, scanning, coding, continuous feeding and many more.
Feedable Material
Books, self mailers, envelopes, magnets, cardboards, CD cases, leaflets, postcards, flats, chipboard, DVD cases, phone cards, pamphlets, credit cards and flyers
Feeds Tri-folds, Z-folds, Postcards, Envelopes, Self-mailers and Thin Sheets

Minimal Operator Experience Required

Setup is Quick and Easy

Fast return on Investment

Replaces the Shuttle Feeder in seconds
 Technical Specifications:
SE 1200 IJ
Max. Product Size: 30 cm W x 35.5 cm L
Min. Product Size: 7.6 cm W x 5 cm L
Max. Product Thickness: 2 cm
Min. Product Thickness: 1 mm
Feeder Capacity: 50 cm Vertical
Speed: 6 mtr. up till 167 mtr. per minute
RCM / Sort Break: Optional
Remote Start / Stop: 110, 24, 5 AC – 24 DC
Warranty: 2 years limited
SE 1800 MP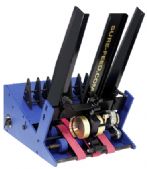 Max. Product Size: 45 cm W x 35.5 cm L
Min. Product Size: 7.6 cm W x 5 cm L
Max. Product Thickness: 2 cm
Min. Product Thickness: 1 mm
Feeder Capacity: 50 cm Vertical
Speed: 6 mtr. up till 167 mtr. per minute
RCM / Sort Break: Optional
Remote Start / Stop: 110, 24, 5 AC – 24 DC
Warranty: 2 years limited