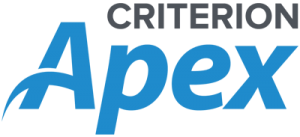 MLOCR or Barcode ReaderThe fast and modular sorter that grows with your business needsThe Apex sorter has been designed with the latest technology to increase your productivity, process a wider variety of mail and ensure greater flexibility for your ever-changing needs.
The peak of sorting performance
Handling virtually any mail type need is a challenge faced almost daily. What kind of equipment smoothly runs at operating speeds up to 70,000 pieces per hour and gives you the ability to read more of your mail than ever before? The answer is the Criterion APEX, available in multiple models to fit your mail sorting needs.
Flexibility
Envelopes come in different shapes and sizes. The Criterion APEX has been designed to process the full spectrum of business and collection mail, whether it is in uniform batches or mixed with various types and sizes. The new Bell and Howell controlled gap feeder features constant gap control, constant pressure and pickup speed to ensure that you will have the highest throughput, keeping processing time of every job to a minimum.
Integrity
The optional Bell and Howell Doubles Detector detects doubles and rejects them, helping to maintain the integrity of your mail operation. The Criterion APEX also optionally features a metal detector, height detector, indicia detector and thickness detector to further guarantee the quality and integrity of your mailstream.
Modularity
When your business needs change, additional devices and modules can easily be added to the Criterion APEX with minimal interruption to your operation. Criterion APEX system's extensive range of software handles the real-time communication between the sorter and standard or optional features. From large to small operating environments, simple to unique sorting applications, Bell and Howell has a configuration to meet your needs.
Optional features
Doubles detector
Thickness detector
Height detector
Metal detector
Indicia detector
WayMark® in-line weighing (36,000 p/h)
High-speed labeler (41,000 p/h)
Specifications

Document specs

Height: 8.5 – 19 cm
Length: 12.5 – 29 cm
Thickness: 0.0178 – 0.95 cm
Weight: 3 – 150 grams

Cycle speeds

Postcard: 70,000 p/h
C5 over 42,000 p/h
C5/6 over 44,000 p/h

All depending on the quality of mail

Belt speed
Dimensions without bins (L x W)

Barcode reader: 3.02 x 1.74 m
MLOCR: 4.42 x 1.74 m
MLOCR with optional WayMark: 5.76 x 1.74 m

Bins

Works with: X-Class, M-Class
Number of tiers: 1-3
Max number of bins: Unlimited