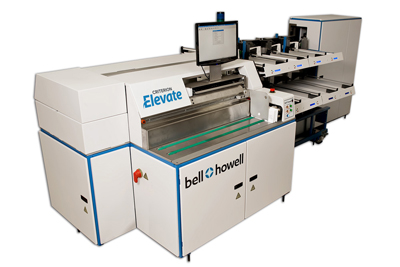 MLOCR/BCR SorterSmall footprint… advanced functionality
The Criterion® Elevate sorter has been designed to meet high-speed mail processing needs of organizations with strict space limitations. The Elevate is ideal for processing various types of mail including:
Vote by Mail envelopes/mail ballots
Incoming mail
Outgoing mail
Flat mailpieces
The Elevate sorter greatly reduces the amount of space needed to run a sorting operation, while still processing at high speeds. With two-tier bins, the sorter has one of the smallest footprints in the industry. It is portable for easy relocation so you can move the sorter to where you need it, when you need it.
The Elevate sorter handles a wide range of mail types from postcards to C4s and a variety of processes from simple barcode sorting to complex database lookups and image processing. It supports all the devices from our larger sorters, resulting in the most comprehensive processing capabilities on a sorter.
MMT SABRE
MMT SABRE®, our multi-line optical character reader, is an omni-font software-based image processing system with industry leading read rates. The MMT SABRE can perform a variety of functions:
Outgoing mail processing: converts a mailpiece's outgoing address to the appropriate delivery point Intelligent Mail® barcode
Inbound mail processing: several read modes from barcode reading to complex inbound database lookups
Mail ballot processing: Inline Automated Signature Verification integrated with complex inbound database lookups
Modularity
When your sorting needs change, additional devices or software can easily be added to the Elevate sorter to expand its capabilities with minimal interruption to your operation. Available options include:
Integrity: A thickness detector, height detector, doubles detector or indicia verifier can be added to assure the quality and integrity of the sorting process
WayMark®: A postage payment solution that verifies the weight of every mailpiece, calculates postage, and optionally prints customized indicia in one operation, saving money on meters, labor and supplies. Compliance with postal standards is achieved by verifying payment amounts based on conformance of mailpieces to the claimed weight categories
Inline selective opener: An inline opener that allows selective opening of the bottom edge of envelopes based on the sort scheme, without damaging the contents
Specifications

Documents

Height: 8.8-17.8 cm
(up to 330 mm with optional C4 package)
Length: 12.7-29.21 cm
Thickness: 0.0178-1.27 cm

Cycle speeds
18,000 envelopes p/h (for DL envelopes, MLOCR mode)
Dimensions with 16 2-tier bins (L x W)
4.36 x 1.89 m
Bins
Number of tiers: 1-2
Power
Single phase/three-phase, amps depend on configuration
Air
No air required with the cartridge printer option
Key features
Smallest footprint with multi-tier bins
Handle the widest range of mail – postcards to C4
Compact with built-in casters for ease of relocation between peak processing periods
Single-phase and three-phase power options
Industry-leading functionality