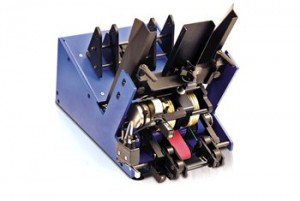 Add-A-Station feeders can easily feed letters, z-fold, c-fold, half, engineering, double parallel and gate materials. Quickly turn your six station inserter into a seven, eight or nine station. Or, have the ability to turn your 12 station inserter up to a 20 station inserter. Set-up simply by clamping the new feeder onto your existing inserter's front table and begin inserting.
These feeders are available in two models – SE 900 and the ECO 900. Each Feeder comes standard with our Patented Dynamic Rotation Technology, heavy duty 1/4″ thick powder coated side frames, ground fault, product guides and variable speed control.
Options
Select on Demand, Credit Card Guides, 24 AC/DC Interface, Batch Counting.
Applications
Loyalty Cards, Phone Cards, Real Estate Business, Cards, Credit Cards, Insurance Cards, Gift Cards, Pouches, Packets, Faux Cards, Post Cards, Refrigerator Magnets, Certified Mail.
Benefits
Create new insert stations to your existing inserter

Easy installation and space saving

Move from one inserter to another

Miss (standard) and Double Detection (optional) capabilities

Higher throughput/lower cost of operation