The Bump Turn can run up to 30,000 pieces per hour and interfaces with multiple types of equipment. Features include angle adjustments, left and right bump turning, variable speed and multi-bump positioning.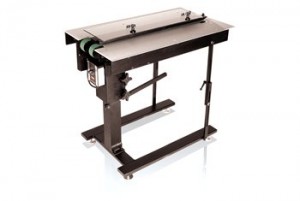 Applications
The Bump Turn is capable of matching up to your existing folder, in-line inkjet printer, tabber, trimmers and stitchers. It provides smooth product transition at high speed.
Feedable Material
Tri-Fold, Bi-Fold, Quarter Fold, Thin Magazines, Letter Folds, Leaflets, Z Folds, Hangers and Pamphlets.
The Bump Turn is a versatile stand alone unit capable of integrated your existing folder with an in-line ink jet printer or tabbing systeem.
Full height and angle adjustments with left and right hand bump turning giving you flexability unavailable eleswhere.
Maximum Input Height: 35″

Minimum Input Height: 21″

Maximum Output Height: 35″

Minimum Output Height: 32″

Maximum Thickness: .125″

Maximum Product Width: 9″

Speed 20 – 500 ft/min.

Electrical: 120 VAC/ 240 VAC 3 Amp

Left Hand/ Right Hand Bump: 5 minute change over

Dimensions: W19.50″ x L35.25″ x H33.25″

Weight: 49.5 Lbs.

Warranty: 2 Year Limited